Tokyo Shinjuku Okubo 1-16-16 Shoei Bldg 101
  Monday-Sun 10.00-19.00
  

03 6886 6808
PHU SI TOUR, SEASONAL FRUIT PICKING, OSHINOHAKKAI ANCIENT VILLAGE
255

Views
0
Liked
Posted on:
05/08/2023
PHU SI TOUR - SEASONAL FRUIT PICKING - OSHINOHAKKAI ANCIENT VILLAGE

- Experience picking fresh and juicy cherries, peaches, and grapes (seasonal fruits) in Yamanashi orchards.
- Conveniently pick up guests at Ikebukuro, downtown Tokyo.
- Enjoy a complete view of Mount Fuji.
- Check-in at the 5-story Chureito Pagoda - an iconic red temple on a hilltop with stunning views of Mount Fuji, representing the promotion of Japan's image to international friends.
- Indulge in local cuisine at each sightseeing spot.
- The tour starts in the morning and returns in the evening, saving you time and enhancing your experience.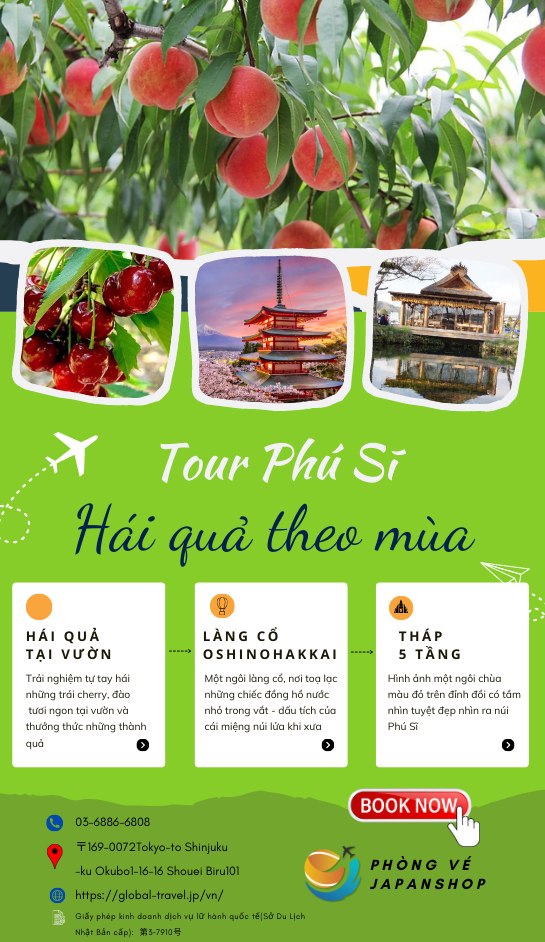 1 Tour Schedule:
* June
4th (Sunday)

18th (Sunday)

24th (Saturday)
* July
2nd (Sunday)

16th (Sunday)

17th (Monday)

23rd (Sunday)
* August
11th (Friday)

16th (Wednesday)

26th (Saturday)
- Meeting point: Ikebukuro Station (7:30 AM)
- Group tour (Tokyo, Ibaraki, Chiba, etc.)
=> Price: 9,900 yen/person (round trip)
Included:
Ticket to pick seasonal fruits in Yamanashi

Tour guide

Bus transportation

Drinks on the bus & vehicle insurance

Karaoke for entertainment throughout the journey

Motion sickness medicine
2 Additional information:
The actual itinerary may be adjusted based on traffic and weather conditions on the day of the tour.

Seasonal fruits: May - Strawberries June-July - Peaches, Cherries August-September - Grapes, Apples, Pears

Minimum number of participants for the tour: 20 people
Breathtaking scenery and ripe fruits await you. Please contact Phòng Vé VJ Connects Office for detailed information and consultation.