Tokyo Shinjuku Okubo 1-16-16 Shoei Bldg 101
  Monday-Sun 10.00-19.00
  

03 6886 6808
[ Shibuya, Ikebukuro, Shinjuku] SPECIALIZED RESTAURANT MANAGEMENT Salary starting from 270,000¥
Hot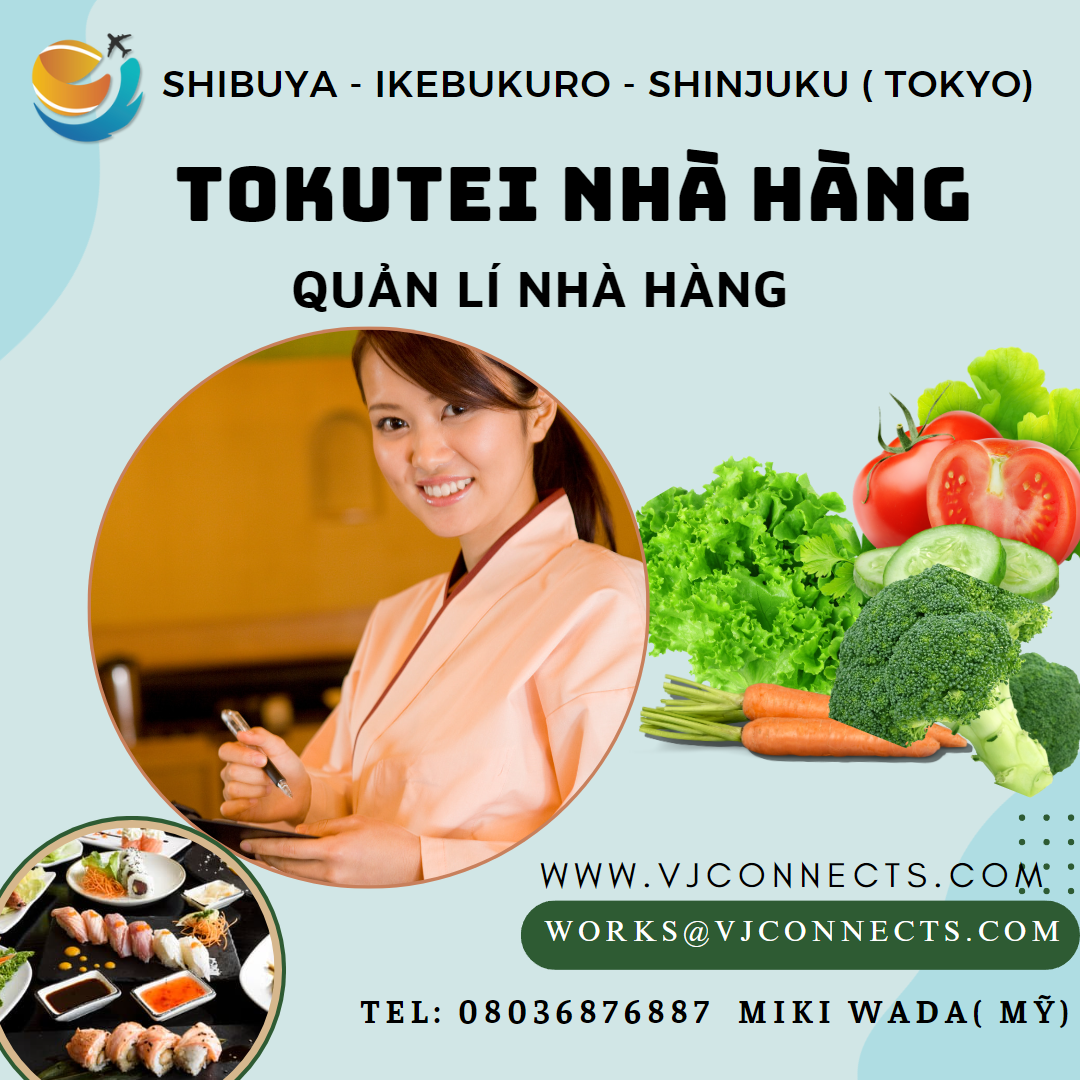 Apply now
VJConnects Co., Ltd.
ID: 7567
                HIRING SPECIALIZED RESTAURANT MANAGERS
-  Job description:               Food preparation, handling, customer service, designing new menus, managing kitchen operations and restaurant functions based on the candidates' experience and preferences. Shift management, revenue management, and temporary staff training.
-  Workplace:                       Shibuya - Ikebukuro - Shinjuku (Tokyo)
-  Number of vacancies:       2 positions
-  Visa type:                          Specific Skills Visa
-  
Basic salary:
                     270,000¥ and above
(including 45 hours of overtime)

-  
Recruitment requirements:
Japanese proficiency:  N3 level or above.
Restaurant industry certification.
Preference for candidates with experience in the culinary and restaurant field.
Diligent, hardworking, and willing to put in effort.
-  Overtime:                          Available
-  Working hours:                 

10:00 – 19:00 (8 hours) 
14:00 – 23:00 (8 hours) 
17:00 – 2:00 (8 hours)   
-  Days off:                              According to the company's schedule, 105 days/year.
-  Salary increase:                   Once per year, based on individual performance.
-  Dormitory and allowances: To be discussed during the interview.
-  Bonus:                                  Available (based on individual performance).
-  Insurance:                            Full coverage as per Japanese labor laws.
For more details, please contact:
                                                             VJConnects Co., Ltd. 

Website
:
https://vjconnects.com/
Email:
works@vjconnects.com
                                                             Tel: Miki Wada   08036876877
Apply now
Salary
¥270,000
Office
Deadline
05/18/2023
-
05/31/2023
Apply now
Salary
¥270,000
Office
Deadline
05/18/2023
-
05/31/2023