Tokyo Shinjuku Okubo 1-16-16 Shoei Bldg 101
  Monday-Sun 10.00-19.00
  

03 6886 6808
[TOKYO - SAITAMA - KANAGAWA] Specialized Restaurant Salary: 250,000¥ - 500,000¥.
Hot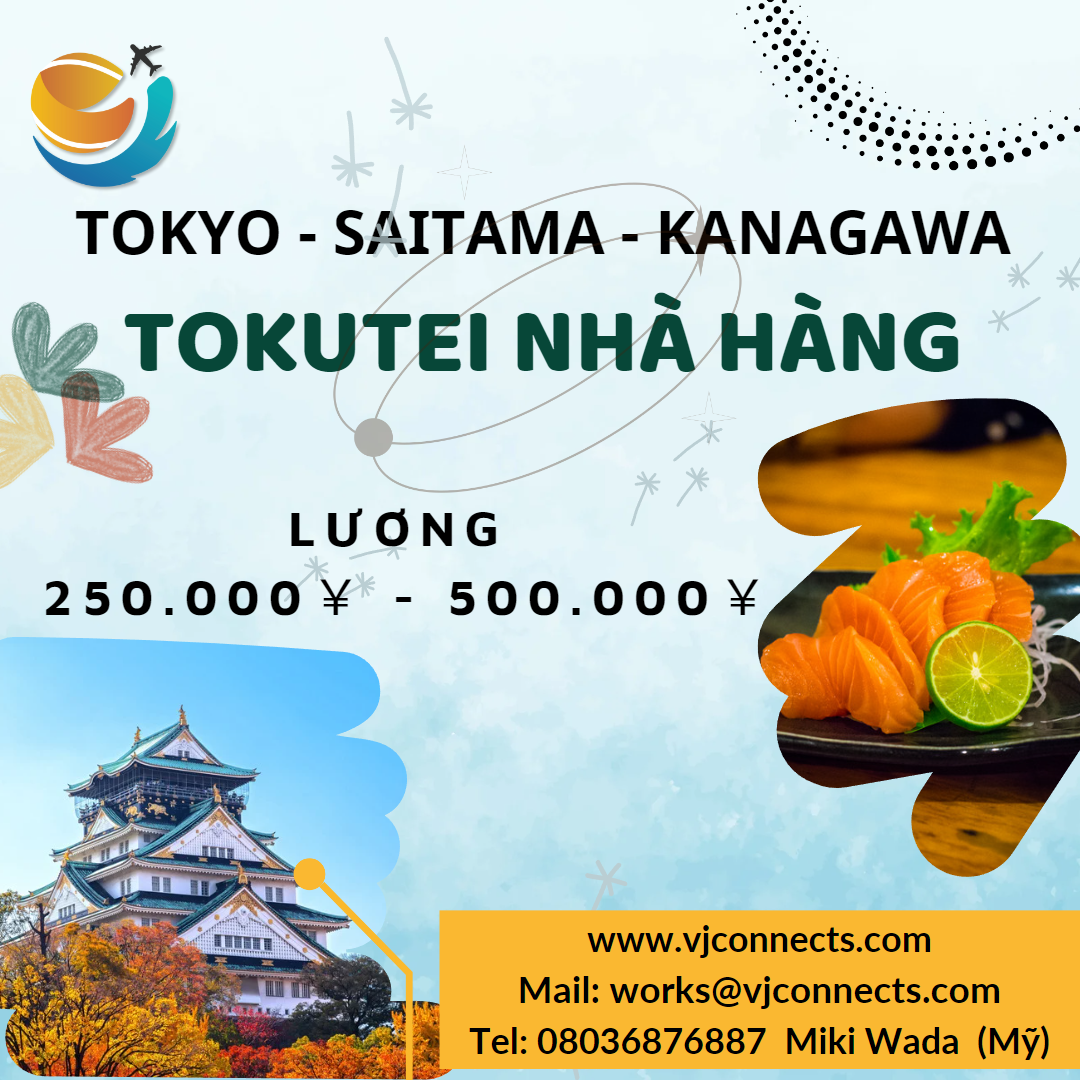 Apply now
VJConnects Co., Ltd.
ID: 7647
             HIRING FOR SPECIALIZED RESTAURANT
- Job description:                        Working in a steak restaurant in the capital area, including serving and kitchen tasks. Once you have become familiar with the job in the establishment, you will be assigned tasks such as revenue management, calculating material costs, calculating staff expenses, selecting equipment, and planning events.
- Work location:                           TOKYO - SAITAMA - KANAGAWA.
- Number of positions:                 5.
- Visa type:                                    Specified Skills.
- Recruitment requirements:
                                                       Japanese proficiency: N3 level or above.
                                                       Certification in the restaurant industry.
                                                       Candidates should be friendly and sociable.
                                                       Priority given to hardworking candidates who are willing to work long-term.
- Overtime:                                   Available (40 hours per month).
- Basic salary:
                                                       Staff: 250,000¥ and above.
                                                       Managers:300,000¥ - 500,000¥.
- Working hours:                          8 hours, to be discussed during the interview.
- Days off:                                      8 days per month.
- Salary increase:                          Once per year.
- Dormitory and allowances:       20,000¥ housing allowance provided.
- Bonus:                                          Twice per year.
- Insurance:                                    Full coverage as per Japanese law.
For more information, please contact:
                                                         VJConnects Co., Ltd.
                                                         Website:
https://vjconnects.com/

                                                         Email:
works@vjconnects.com
            Tel: Miki Wada (My) 08036876877
Apply now
Salary
¥250,000-¥500,000
Office
Deadline
06/01/2023
-
06/17/2023
Apply now
Salary
¥250,000-¥500,000
Office
Deadline
06/01/2023
-
06/17/2023